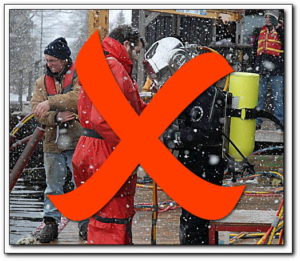 (CADC PRESS RELEASE) The main technical committee for the CSA Diving Standards Group has unanimously approved at its April 2018 meeting an immediate amendment to the Diving Operations standard Z275.2-15 that will eliminate the clause 8.2.1.2 that allowed the use of a minimum three-man dive crew in low-risk surface supplied diving operations under Amendment 1.  
On completion of the CSA approvals process, only a qualified and competent minimum crew of FOUR dive personnel (Diver Supervisor / Diver / Standby Diver/ Dive Tender) will be allowed for surface supplied diving operations.
Originally scheduled to be eliminated in the next revision of the standard in 2020, the current abuse of utilizing of a three-man crew without a competent fourth person in attendance warranted the immediate issuance of an amendment to eliminate the unsafe practice. Amendments are effective immediately on approval and publication (anticipated OCT 2018).
It had been determined by CADC, Dive Supervisors, Regulatory Inspectors and others working in the field (or knowledge of it) that the clause 8.2.1.2 was being severely abused and was being used to justify the use of three-man crew in operations in ALL operations (not only low-risk) – thereby skirting the intent of diver safety as it allowed the use of a non-competent person 4th person to be used –if at all. (Client supplied / incompetent etc.)
The practice usually was based on succumbing to economic pressures for low bid and ignored recognized safe practice in diver safety. The contractor did it simply because they legally could by the standard and jurisdictions recognizing that section in the standard by regulation.
The removal of clause 8.2.1.2 in Z275.2-15 clarifies the unsafe practice and will now prohibit the use of a minimum three-man dive crew in ANY surface supplied operation operating under or recognizing the Standard. The CSA Dive Standards are a minimum safety standard by design and recognized and sited by nearly a third of all regulatory authorities across Canada.   
The practice of using a three-man dive crew in surface supplied dive operations – under CSA Dive Standards – is over. Period. If there is a surface supplied dive operation being conducted in ANY situation, there are to be FOUR qualified and competent diving personnel onsite. No exceptions. (No crane operator, boat operator – or someone's mother – as the "fourth" person unless they are competent in diving operations as defined in CSA Z274.2 – Competency Standard. Four competent dive personnel are to be onsite while operating – no exceptions.)
With the CADC and DCBC goal to recognize One Dive Standard for One Country (CSA Dive Standards) as a minimal dive safety standard – it is anticipated that this will become a national practice. All current dive schools practice and train to these standards. It is expected in the field.
Notification of Intent on the CSA web site is at Standards Under Development – Health & Safety Program
DOWNLOAD THIS PRESS RELEASE: Press Release - Three Man Dive Crews Abolished by CSA Dive Standards 2018
It's about time. It's about safety.
(IMPORTANT NOTE: Occupational SCUBA diving operations – including minimum competent crew sizes – are to be reviewed this year by the CSA Dive Standards Group. It is anticipated that ALL occupational diving operations will require a competent four-man minimum dive crew  – regardless of method of operation.)